Biography
---
Chewing the Pencil
Home is where the writing materials are
. . .
Los Angeles : Born in the United States to an Air Force test pilot, you might think Niki Chanel and her sisters had a fascinating childhood. As kids, however, they moved often, did not get along with their mother and hardly knew their father. He was often away on TDY (temporary duty) and when he was home, most of his time was spent with his wife. Their mother, frustrated by the constant moving and the military pressures of conformity, was bitter, angry and distant toward them.
Later in life Niki was to learn that the quiet parental conversations were about politics of the job and the upcoming transfers. For their own reasons, they chose to kept the children in the dark about their plans, so it was always a surprise to Niki when the moving trucks came to pack things. It was even more of a surprise when her stuff was always missing when we reached their final destination.
Each daughter found a different way to cope. One escaped into comedy, one into fantasy and Niki into ancient history and mystery. All three of them write.
photo of me in velvet coat with fur and toy on a string
Niki Chanel now lives and writes in Los Angeles. She holds a BFA (bachelor of fine arts) from California Institute of the Arts, a G.G. (Graduate Gemmologist degree) from the Gemological Institute of America and as studied ancient Egyptian history since the 6th grade.
~
Books
---
Chanel writes from Wrongs
Read synopsis here with links to longer versions and autors inspiration
. . .
Los Angeles : A multi genre author, Niki Chanel comes to us from an artistic background of paint, film and ancient history. So it is no mystery that she should write stories of artists, celebrities and kings. But what does surprise are the local werewolves, evil twins and ghosts of nuns. Even more unexpected is an exhortation of a gendre-confused male photographer that's "coming-out" and learning to live with a new lifestyle.

Below are a few samples of Niki Chanel's upcoming story lines.
Upcoming Events & News
---
EPICon 2008
6 - 8 March, 2008
COMMENTARY
Portland, Oregon : A 'Members Only' convention of authors, publishers, cover artists and the like will be held this month in Portland, Oregon to discuss, teach and honor the digital written word. Why? To celebrate the biggest and brightest thing that has happened to literature since the printing press. It's called E-publishing.
This fairly new approach of using the internet to publish novels and poetry brings readers and writer's closer than ever before and EPIC has taken a stand at the front of the line.
The name EPIC, known to mean an extended tale, also stands for Electronic Publishing Internet Connection. The company was started by Florence Moyer and Jane Bierce in 1998 as a spin-off of RWA, the well established Romance Writer's of America. At the time RWA was unwilling to add an e-pub chapter and the two women decided to go it alone. In 2000 the first EPICon symposium was held in Omaha, Nebraska.
Their main goal, in the beginning, was to provide an information exchange for electronically published authors. They advertise themselves as publishers of "all the most popular fiction genres, as well as non-fiction self-help and how-to". It has expanded into issuing awards for outstanding work. Each year, books and cover art are judged by members, all published authors, and the winners are announced at a gala EPPIE award ceremony at the convention.
Internet users is on the increase and e-publishing is coming of age. One can now purchase and read a short story, novella, novel or, oddly enough, an epic online. The cost to the reader is less than half of a current paperback, however these pioneers do not cross over; paperbacks are not published on line and e-books are not printed on paper.
Highlights this year will include an introduction to E-readers. These are hand-held electronic devices that can upload a book in minutes so one can take it along like any other book. The beauty is that many books can be stored in these little beauties taking the weight out of toting around several paperbacks or finding oneself with nothing new to read on a dark and stormy night in a new town. Just connect to the internet, pay for your choice, upload the entire work and you're back and reading in no time. Two contenders for e-reader business are Sony and the Amazon Kindle.
This video from DiggNation (yeah, I'm a geek) gives a good review of the two products at the 14:15 portion of the video; just slide the loader. If you have difficulty seeing it, this non-video article from Gizmodo comparing the two will inform you fully.
Opinion
---
Stuff That Occures to Me
By Niki Chanel
Last updated : 1 March, 2008
. . .
Los Angeles : I think, generally, piercings and jewellery that is put into those piercings are intended to beautify the modern youth. However, the one that fit in the cartiledge of the nose between the nostrils should not look like boogers hangin' out. Facial accessories have a tendency to exagerate facial features, so if one has an unsightly nose, I suggest a lip or eyebrow ring - not a nose pin. All the world is a stage, but stage lighting rarely matches soft bedroom light. Have a friend take some pix in different light and with different clothing. It'll be fun and you can see how you look to the rest of the world. Just an opinionated thought.
~
---
Archived Events
---
LARA Mini Conference

24 February, 2008 Burbank Public Library :
---
West Hollywood Book Fair
14 October, 2007 ..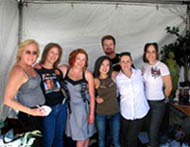 LARA friends at the bookfair
---